Managing your domain's contact information is very important, as the listed contacts for your domain are the only people who can make changes. You should keep your contact information as up-to-date as possible.
In order to update contact information follow these steps:
Log in top https://manage.opensrs.net using your domain name (without www), username and password.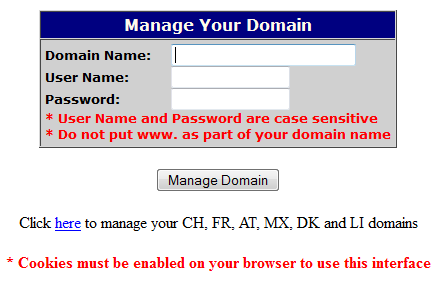 Along the top of the page that appears after a successful login, you'll find links to change your organization, admin, billing or technical contact. Choose the contact whose information you would like to change, and click on the appropriate link.
The "Edit information" page will appear. Just change the information in the fields as necessary. If you need to change the same information in the other contacts (billing, etc), scroll down to the bottom of the page where you see "also apply these changes to" and click "yes" in the radio buttons that are beside the other contacts.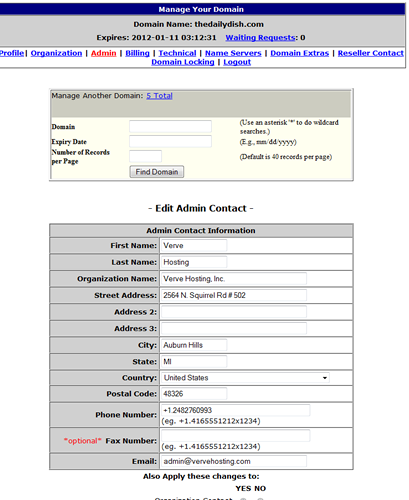 After you've finished. Click "Save information"
If you have lost your OpenSRS domain management username and password, we can send the information via email to the listed admin or owner contact that appears in the whois database for your domain .
If the listed admin contact email for your domain is no longer valid (for example, if that person has left your company and his or her email address no longer works), Tucows/OpenSRS can change the listed admin contact for you.
Assuming your listed admin contact information is correct but the email address ONLY is incorrect, Tucows will accept a FAXed request with a valid photo ID. The request form can be found at http://adminchange.com. With these, they can process an admin email contact change for you.  Once that's done, we can email you the username and password needed to manage your domain.
In cases where you will need to prove you are indeed the actual Registrant for the domain, you will have to FAX in a signed request for an admin email change with the following info, depending on whether the Registrant is listed as an individual, or a registered company name:
Individual:
————–
Simply fax in a signed request to update the Admin email address, and accompany this by a clear photocopy of any valid government issued photo ID (passport, drivers license, etc..). The request form can be found at http://adminchange.com.
Company Name:
————————–
– A signed fax on company letterhead requesting the Admin email update
– Photocopy of any government (Federal/State) photo ID or drivers license that will represent the listed names on any of the following documents as an authorized representative of the Registrant.
– Business registration documents
or/
– Letters of incorporation
or/
– Previously filed tax remittance forms
A fax cover sheet can be found at http://adminchange.com.